Do you want to have the best summer of your life? Select the right Summer Products! 
Summer is nearly here! Hurray! It's really hot outside, isn't it? These Summer Products will save you! While some of us are starting to prep for the travel days, summer weather is still in full swing.
Also, chances are it will continue to be pretty darn hot until your local coffee shops start rolling out pumpkin-everything. If you're in need of some relief from the heat, you'll want to check out these 10 Best Summer Products From Mexten To Help You Beat The Heat. This season we're offering a range of exciting products for you, to help you keep cool and have fun in the sun. Here are our top 10 recommendations :
Don't keep running to your kitchen Summer Products!
Bring the food to the party with this Inflatable Serving Bar. It can even float in your pool!
The vast majority of outdoor entertaining is done in beautiful sunny weather and the major problem this brings is keeping food and drinks cold. This is among the most convenient Summer products! The go-to product to solve this is a portable cooler, but there will be times when you want your food on display. This is where this Inflatable Serving Bar comes in handy. It is easy to store and transport. Furthermore, a blow-up buffet server allows you to have your great selection of salads or drinks in full view of guests and at a nice cold temperature! 
Inflatable Serving Bar – $22.95
Order here
Your ultimate relaxation for hanging out at the pool and on those lazy days at the beach!
Think of the two most relaxing things to do on a hot summer day. Of course, a lazy day in the hammock and a comfortable whirl on the air mattress in the pool! And when these two wonderful things come together, you will be treated to a super-deluxe mode of relaxation! Say hello to these Summer products! First one is floating hammock – the ultimate way to relax in the water! This Pool Hammock is perfectly suitable for vacation, leisure time, relaxation, etc, bringing you a wonderful and cozy summer. Crafted with eco-friendly PVC. Its ergonomic design provides plenty of support and an abundance of comfort. It allows your body to cool in the water and giving you a relaxing and comfortable experience.
Order here
Sand Free Beach Mat will be your good helper and make you enjoy summer relaxing time more!
If you enjoy lying around on the beach and topping up your tan or going camping in the countryside, you may well benefit from using a sand free beach mat because these mats will quickly remove any sand, dust, and mud from your surroundings by enabling these small particles to pass through to the other side. Lie down comfortably on beautiful beaches around the world without the annoyance of sand getting all over your clothes/body – the generously sized sand proof beach blanket is ideal for enjoying beach time with a group of friends or family.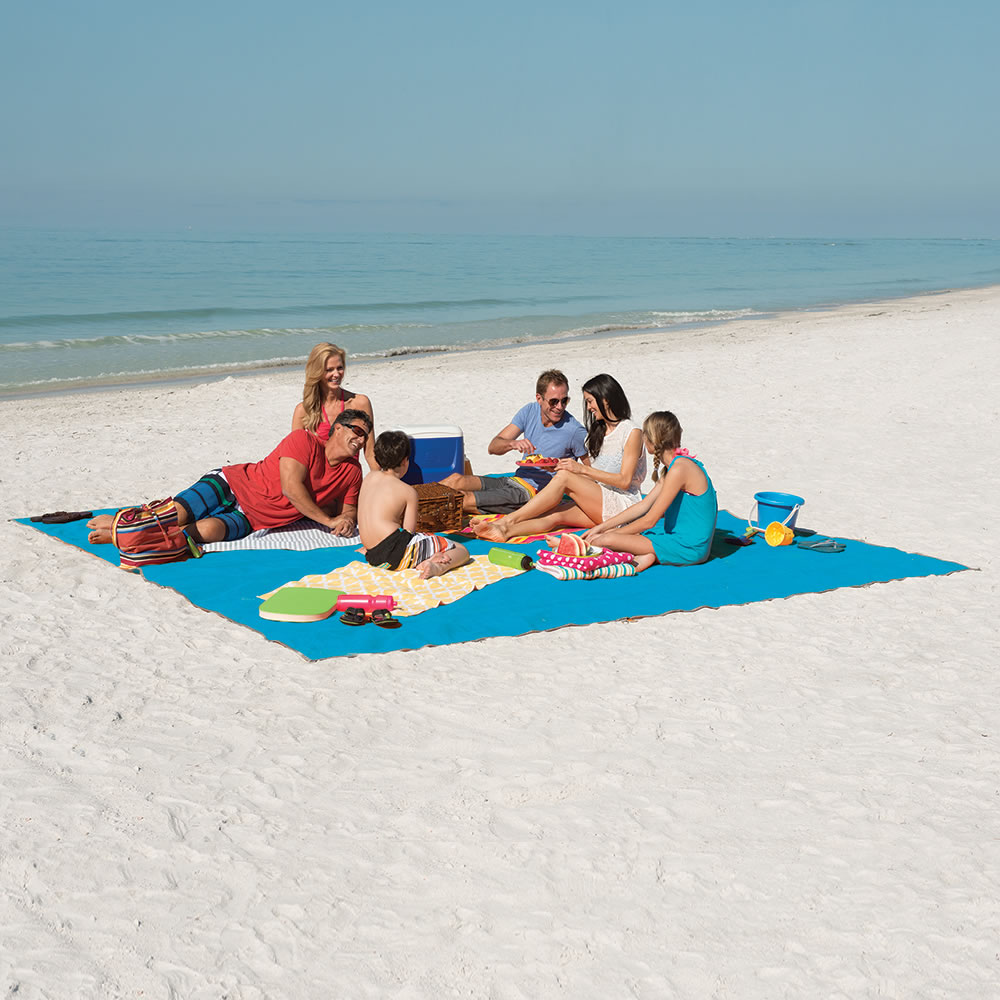 Sand Free Beach Mat – $30.97 – $33.97
Order here
Summer is about to get even better this year!
Get yourself one of these Creative Polyester Beach Blankets for a fun-filled getaway! These food blankets are colorful and captivating as they are, is made of durable polyester material for better handling with sand and easy washing while being an excellent heat insulator. Let us all sunbathe on our favorite snacks!
Creative Polyester Beach Blanket – $23.90
Order here
Get tropical with these trendy inflatable drinks holders!
Have ever thought about summer products which can make you cold on a hot summer day? Whether you are swimming in a luxurious pool or simply taking a soak in the tub, this inflatable drinks holder is the perfect way to make sure you always have a drink at hand or cocktail! Bring on a sunny holiday to float a fruity cocktail in the pool. Simply use as delightful props at a summer themed party. Furthermore, a great unusual present for those who have everything or a fun way to ensure your kids keep their liquid content up during the long hot summer months.
Mini Inflatable Floating Drink Holder – $12.95
Order here
Your children will be protected from the sun with you on their side!
It is a good thing to bring your babies to the beach and let them enjoy playing in the sand and build sand castles; however, the harsh sun can damage their sensitive skin. Protect them from the harsh UV with the Portable Pop-Up Baby Beach Tent. Let them develop their sensory skills by playing in the sand. Also, you can also bring them with you in the water. The harsh sunlight must not stop you and your children from enjoying the beach and spending quality time with everyone.
Baby Beach Shaded Pool – $54.97
Order here
Does walking on hot sands on the beach, slippery floors at the spa or at the pool bother you?
Look no further than these adhesive foot protectors! You can now give your feet a layer of protection, no more slipping and sliding around the poolside or burnt soles from the beach! as! Moreover, this hypoallergenic, skin-friendly, super adhesive foot protectors are also waterproof and can protect your feet against verrucas! Summer products have never been so cool! 
Adhesive Foot Protectors – $12.95
Order here
Stay protected and comfortable in the water or around the pool by choosing these pool shoes!
Ultralight water socks needed when you go to sea, beach, swimming, diving or at home doing yoga or as a slipper resting feet after rigorous exercise. A correct choice of wearing shoes in water sports or on a hot beach. The water socks allow for quick and easy entry, protecting your feet from dripping off it is easy to wear or take off, and easy to hang on at outdoor sport bags and bikes. Large shoe mouth design, to fit any size feet easily and perfectly. Prevent sand and small things into the shoes. Seal design provides you a bare-feet feeling which is unique for summer products. Water Shoes are popular in water sports and feverishly loved by entertainment lovers. Moreover, when you wear water shoes sliding on the water, just like walking on land, smooth and flexible. 
Order here
They have greater durability than latex swimming caps!
If you are looking for kids summer products, you have to check this one! These swimming caps are suitable for male and female swimmers, adults and children – including those with long hair. You can quickly and easily take it on and off without snagging or pulling long hair. These summer products developers wanted to prevent overpressure and keep water away from your ears. Moreover, for the mentioned reason, they added comfortable ergonomic ear pockets to the swim caps. With the help of comfortable ergonomic ear pockets, the cap prevents overpressure and keeps water away from your ears. You can swim faster with less resistance and reduction of drag through the hydrodynamic, wrinkle-free design of our caps.
Order here
Introduce your baby to the water with the swim ring!
This is the product that exactly will be among beloved by your child summer products! The baby body float will bring your baby joy in the water! Provides ideal swimming position, safety & independence in the water. Fast and easy to put on with patented clip fastener and no slipping through inflatable pads. Inflatable swimming ring, inflatable fixed air cushion, non-slip, safe, intimate contact with baby skin, safe and secure. Double airbags on both sides, double buoyancy, inflatable floats for kids let the baby float happily on the water. Moreover, safety locks, easy to adjust elastic, double protection baby, swimming pool floats safe and comfortable swimming make this product great. Insurance valve leak-proof nozzle to prevent leakage can press contraction, easy to carry.
Order here