Do you want to buy a gift for your mother, but don't know what? We have collected best for Mother's Day Gifts!
Mums are amazing, aren't they? Who else would do your washing, be a constant shoulder to cry on and still fuss and worry about you long after you've grown up and left home? Looking for a Mother's Day Gifts, are we? Beautiful… If you have left finding a Mother's Day Gifts for the last minute, don't worry! You still have time to find the perfect present before May 12th! No matter your budget, you're bound to find something mom is sure to love. Thanks to Mexten, you can bring home amazing gifts that will wow Mom this year with plenty of time to spare.
Keep Your Loved Ones Close To Your Heart Always!
These beautiful eye-catching necklaces are fashionable and affordable. The magical locket is a perfect gift for loved ones and friends to remember those precious people in their lives and keep them close to your heart. This gorgeous locket opens and expands to reveal 4 pictures of precious loved ones. These pieces are all gorgeous, they will be sure to get you noticed! When you wear it, it promotes beauty, health, good luck. It is a great gift for your best friend, mother and girlfriend significant other, or anyone who enjoys handmade fine jewelry. Keep your precious memories in our expanding photo locket! 
Order here
DIY a meaningful gift with your love, and keep your happy memory in the photo album!
When closed, the box looks like a gift box. Once opened, the gift box will explode, all the sides fall back to reveal a large multi-layered card and show all the love you put into it. Perfect gifts for wedding, engagement, anniversary, birthday, baby shower, Valentine's Day, Mother's Day Gifts, Christmas, etc. Apply to a marriage proposal, photo album, and travel record. You can DIY a magic special photo album or customize it with your own photos and messages, making it a very meaningful handmade gift to your lover, family, friends or yourself.
DIY Explosion Gift Box – $25.95
Order Here
Looking for a way to show your love? This pendant will brighten anyone's day!
When illuminated by light the pendant projects "I Love You" in 100 languages! The perfect surprise for your lover! The perfect anniversary gift, treat your wife for your wedding anniversary. Delight your mom on Mother's Day Gifts, your girlfriend for Valentines Day, your daughter for Christmas or best friend on her birthday!
Order here
Take it as an exquisite artwork showing your romantic lifestyle!
Roses have always been a symbol of beauty, love, and appreciation. Our gold foil rose is a pleasant gift for mom, for wife, for girlfriend. The item is a simple and elegant romantic long stem rose flower, which is mainly made of durable gold foil, never wither and never fade, and it is perfect to represent a longing for pure and enduring love. Therefore, it is really a wonderful Valentine's gift or wedding favor to express the sincerest love to your lover. This gold foil rose is not only as a pleasant gift. Besides, it is also a great idea for home table decoration, office arrangement, and party wedding decoration.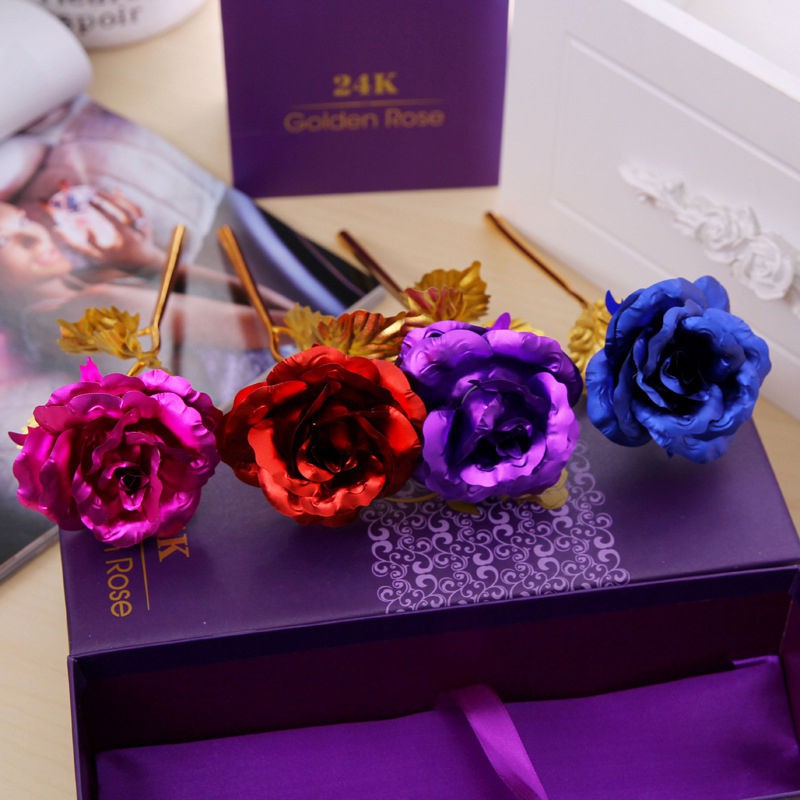 Foil Plated Rose Flower- $23.97
Order here
The Wall Clock with Hidden Safe is a stylish and functioning wall clock with hidden space for valuable behind the face!
Discretely conceal passports, important documents, jewelry, cash, bank cards, and other small valuables behind the face of this working analog clock! This clock safe works great to safeguard valuables against potential burglaries. The sleek and classic design can fit seamlessly into just about any room with spy-like stealth!
Order here
This luxurious, elegant and simple design watch will go great with any outfit and any occasion!
Stars shine sky dial, the shimmering powder in the dial will change colors under the different lights and views, as twinkle twinkle little star. Romantic, fashionable, simple and entry lux. Suitable for business and casual occasion, make you elegant and fashionable. Not only design for a young lady, but also for the mature woman. It comes with gift box, perfect for Mother's Day Gifts, Birthday, Christmas, Valentine day, Wedding, New Year Gift to your mother, wife, girlfriend, daughter, good friend, even your boss, and colleagues. Easy to adjust the watch to your wrist size. These watches are great for daily wear, making you the shining star in all occasions. Suitable for business and casual occasion, make you elegant and fashionable.
Women Starry Sky Waterproof Watch – 
Order here
This gorgeous Enchanted Rose Flower Lamp will thrill any beauty and the beast fans!
The red rose will be an eye-catching addition to any room in your home. The lamp is made using high-quality materials and led lights. The handcrafted nature of this product creates variations in color, size, and design. The adjustable stem can bend to the shape you want. Hand-painted latex petals give the rose an incredibly realistic look and feel! The pedals even have veins and wrinkles like real petals. Don't buy silk flowers that look cheap and fake! USB cord with on/off switch lets you leave the lights on when you want without worrying about battery power! (Female wall adapter not included but available upon request. AA battery powered version with timer available upon request.
Enchanted Rose Flower Lamp – $49.25
Order here
Real love takes time to grow, just like this unique pearl!
Experience the thrill of opening one of nature's most perfect gifts, a freshwater oyster. Please enjoy the beauty and surprise this kit has in store for you. God created Women and Pearls, each takes time to grow to their full potential as intended. Treat both with respect and love that they deserve, love is eternal and life should be enjoyed to the fullest. A glittering Pearl awaits you to brighten your mood guaranteed! This is the perfect gift to tease your curiosity and test your luck. Please make a wish and enjoy the Health, Happiness, Love, Wisdom and Wealth that each unique Pearl color symbolizes for Mother's Day Gifts.
Natural Oyster Pearl Necklace – $17.95
Order here
Looking for a gift for a music lover? Check this out now!
Discover how awesome this Unique Musical Note Lamp! Mother's Day Gifts  Your love toward music should not be in your mind but show off with this lamp now! Add a musical atmosphere to your bedroom with this music note desk lamp!  Musical Note Lamp is perfect for all music lovers. It looks gorgeous in your living room, bedroom, office, as well as on stage when you are performing. When it is not turned on, it's perfect home decor.
Order here
360 Rotating Makeup Organizer is a great design for women!
This is one of the best products for Mother's Day Gifts! If you have cosmetics and skincare bottles lying around and there are times that you cannot find what you're looking for in that disarray, then it's time to get the 360 Degree Rotating Makeup Organizer. It perfectly organizes and stores your cosmetics, including lipsticks, lip gels, nail polish, makeup brushes, cheek color, eyebrow pencils, foundation sticks, beauty gadgets, necklaces, rings and more. The tray's height can be adjusted based on your needs. Both small and big containers can fit the rack because of its high capacity. This awesome rack can rotate 360 degrees so you could conveniently put and take stuff out easily. Make everyday life easier and more convenient with the 360 Degree Rotating Makeup Organizer. It is durable, washable, and wear-resistant making it suitable even for bathroom use.
360 Rotating Makeup Organizer – $27.95
Order here
Latest Blogs